Hertfordshire Agreed Syllabus for Religious Education (RE)
Last updated on 08 July 2021
RE is a statutory entitlement for all pupils registered in a school, including Reception year and post-16. It is locally determined rather than nationally stipulated within the national curriculum, allowing for variation in local faith and belief communities. The agreed syllabus provides the statutory requirements for RE in Maintained schools and Voluntary Controlled schools, and is recommended for Voluntary Aided schools, Academies and Free Schools to ensure consistency and coherence in the entitlement of all Hertfordshire pupils.
In light of Covid-19 and the unprecedented demands placed on schools Hertfordshire SACRE has made the decision to delay work on the revising of the Hertfordshire Locally Agreed Syllabus. The revised LAS will not now be implemented until the academic year 2023-24. Hertfordshire schools should therefore continue to use the existing LAS until 2023-24.
SACRE survey on the current Local Agreed Syllabus – have your say!
SACRE has now started the work on revising the current the Locally Agreed Syllabus for RE ready for the new syllabus to be implemented at the start of the academic year 2023-24. Hertfordshire's Standing Advisory Council for RE has responsibility for this revision and as part of this process, we are asking Hertfordshire schools to help us by taking part in this on-line survey:
https://surveys.hertfordshire.gov.uk/s/L1PQ2A/
The purpose of the survey is to understand from Hertfordshire schools whether you are happy with the aims, what has worked well and what changes, if any, you would want to see included in the new Syllabus.

The deadline for responding is 17th September 2021.
Thank you in advance for your support with this.
Accessing the syllabus
Copies of the Hertfordshire Agreed Syllabus can be purchased from the Herts for Learning shop:
Hertfordshire Agreed Syllabus for Religious Education 2017-2022
Note: Parents wishing to view the Hertfordshire Agreed Syllabus for Religious Education 2017 - 2022 should request access to a hard copy via their child's school.
How to use the materials
The agreed syllabus provides clarity the aims, time allocation, breadth of study and expected learning outcomes for Religious Education in Hertfordshire maintained schools and as such is the basis for medium term planning, and is not the same as a scheme of work. It is the responsibility of the school, using the non-statutory support materials provided and accessed from this website, to design an appropriate curriculum for their pupils that meets the requirements of the agreed syllabus and to develop meaningful learning experiences for their pupils.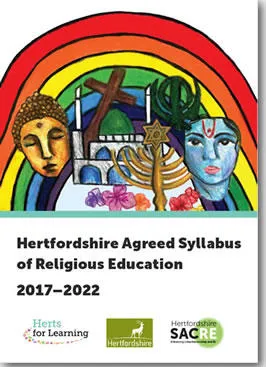 First published 27 August 2020 - Last updated on 08 July 2021