Active and Safer Travel team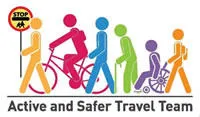 Team:
The role of Hertfordshire County Council's Active and Safer Travel Team is to help make walking, cycling and the use of passenger transport a realistic and attractive option for school journeys and to support alternatives to using the car, particularly on short journeys.
The team supports schools with their school travel plans and road safety education. They also run campaigns and promotions aimed directly at parents and carers. The overall aim is to reduce congestion and improve road safety, particularly around schools, lower carbon emissions and to contribute to children and young people's health and well-being.
Address:
Active and Safer Travel Team (Postal Point CHN101)
Hertfordshire County Council
County Hall
Pegs Lane
Hertford
Herts
SG13 8DE