Climate change and sustainability: school buildings
Last updated on 03 August 2022
Introduction
Around 40% of man-made global carbon emissions come from the construction and operation of buildings.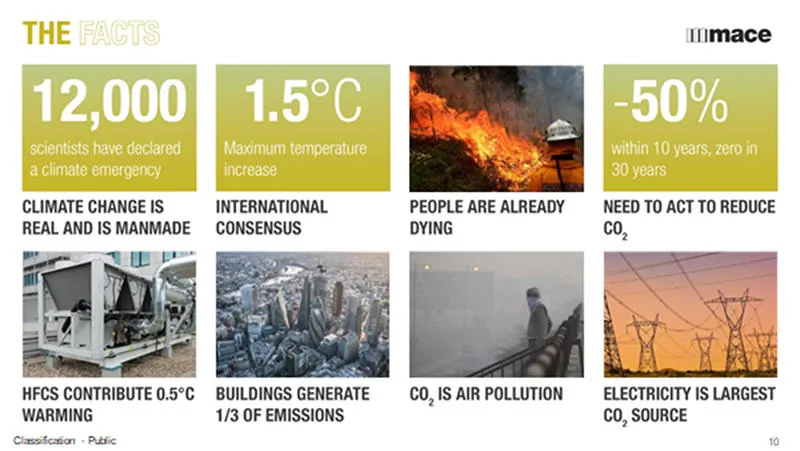 Approximately 50% of Hertfordshire County Council (HCC) operational carbon lies in the primary school estate with many buildings having a poor energy rating. Investing in school buildings will play a critical part in achieving our objective to be carbon neutral by 2030. This is huge undertaking and we are still in the process of developing a specific road map for delivery across the whole school estate. The following outlines what we have done so far and some next steps. It also gives some pointers for what schools could think about doing individually to improve energy efficiency and some links to useful resources.
What is HCC doing?
Developing a strategic approach to deliver a carbon neutral primary school estate by 2030
The Net Zero Carbon Project is looking across the maintained school estate, analysing energy consumption and other data. 10 sample schools have been identified to trial a range of net zero carbon improvement measures. The learning from this work will help HCC establish a rollout programme of works across the sector. HCC will need look at how to use existing funding sources, such as Repairs and Maintenance, and also bid for external grants to support this objective.
If you want to know more about this contact DCDrequests@hertfordshire.gov.uk
Energy efficiency pilot
Low-cost energy efficiency measures typically save 10 to 20% of energy bill and pay back in less than 3 years. HCC's energy management team is already supporting more than 70 primary schools by undertaking free heating and lighting surveys.
The heating surveys look at the basic heating controls and systems to identify where low cost interventions such as boiler timings, sensor placements and basic good practice can make a huge difference and where possible can help fund these smaller changes . The lighting surveys show how changing to LED lighting can make significant cost and carbon savings and the team will help to organise loan funding and best procurement practice for the installs.
If you are interested in this scheme contact: energy.management@hertfordshire.gov.uk
You can find out more about this scheme, general energy management and monitoring advice and what other support is available to schools: Energy management for schools
Planning for new schools
A new build pilot school is underway in Buntingford. This school, due for completion in August 2022, will trial full Net Zero Carbon measures and provide detailed knowledge of how to build NZC schools moving forwards. The design encompasses sustainable measures throughout such as a piled concrete foundation in recycled steel tubes, a cross laminated timber frame, PV's, air source heat pump, localised hot water provision and an attenuation pond to support habitat and biodiversity.
Public Sector Decarbonisation Fund
HCC has secured over £24m of government public sector decarbonisation funding (PSDS), the third highest value awarded to a single public body organisation in England. This will enable over 200 decarbonisation projects across the County, around a third of which will be in schools. Projects include electrification of heating systems, double glazing installations, cavity wall insulation and solar photovoltaic (PV) installations. We will be ready to bid for future funding opportunities and we will make sure Academies and other organisations know when they can bid too.
Public Sector Decarbonisation Scheme Phase 3b
Salix Finance is delighted to announce Phase 3b of the Public Sector Decarbonisation Scheme, in partnership with the Department for Business, Energy, and Industrial Strategy (BEIS).
Phase 3 of the Public Sector Decarbonisation scheme, announced in September 2021 has already awarded £555.7 million to public sector bodies to upgrade public buildings with low carbon heating and energy efficiency measures.
Announced today, Tuesday 2 August, up to £635 million of government funding will be made available under Phase 3b to public sector organisations so they can install low carbon heating, such as heat pumps, and energy efficiency measures including double glazing and loft insulation.
Phase 3b guidance notes, application form, eligibility criteria, FAQs, key dates, and terms and conditions have been published on the Salix website. We have also released a series of videos about the scheme alongside a series of client testimonial videos.
The Phase 3b Application Portal is expected to open in September.
Overall, £1.425 billion is due to be allocated through PSDS Phase 3 over three years until 2025. It builds on the £1.075 billion already made available to decarbonise the public sector through Phases 1 and 2 of the scheme.
And upgrades are already under way through earlier rounds of the scheme, with 734 grants awarded to public sector organisations across England so far and Phase 1 alone supporting up to 30,000 clean jobs in the clean heating and energy efficiency sectors.
PSDS funding will allow low carbon heating systems, including heat pumps and electric heating to be installed in public buildings, with many projects also installing energy efficiency measures such as wall and roof insulation, double glazing and LED lighting, and renewables such as solar panels.
The funding is provided by the Department for Business, Energy and industrial Strategy and delivered by Salix Finance. The PSDS supports the Government's net-zero and clean growth goals. The funding is available through the Public Sector Decarbonisation Scheme with organisations such as NHS Trusts, schools and local authorities available to apply for grants from September.
Salix Finance will be discussing the Phase 3b PSDS in a series of webinars, which can be booked:
These events will be held on 5, 9, 12 and 16 August. Salix will hold further webinars in September, and these will be confirmed on our website soon.
For further information, support or guidance relating to the PSDS Phase 3b, please email the team: phase3bgrants@salixfinance.co.uk
What can schools do?
You could start to think about:
Assembling fuel consumption data on your building to start to understand your current carbon footprint (If you buy into the HCC energy contract this data is available to your school on Systems link where you can see usage and cost data, more information on this can be found on the Energy Team pages).
Producing a sustainability and decarbonisation plan.
Get ready to bid for future funding opportunities – HCC will alert schools when these come up by email.
3 actions you can take now:
Install M2G controls
Buy green energy
Adjust boiler/temperature set points
M2G is an advanced intelligent boiler control that optimises the heating efficiency of hot water boilers. A unit attached to each boiler monitors the temperature of the water in the flow and return every 10 seconds and the information is recorded, along with the heat transfer rates at both the first and second stage firings.
Purchase green energy (if you are currently on the HCC contract your electricity is REGO backed green energy) and appoint a school "energy monitor" to look at energy usage every month and how much it is costing you, then set a target to reduce to spend money elsewhere i.e. more curriculum resources.
More information on how to monitor your energy meter usage, examples of good practice, how to apply for a Smart Meter to assist you with this and other resource in this area can be found on the Energy Team pages.
Be energy efficient by turning down the thermostat by 1degree, turn off lights when you leave a room/end of day, ensure every computer is off and not on stand-by, Also, consider are you paying for the energy you use and submit readings for accurate bills (do not allow "estimate readings"). Consider if you have significant out of hours/community use and if you can install sub-meters to monitor use of external lighting, community use areas such as halls out of hours.
Small
Primary school solutions
Cost without discount
Energy saving
M2G intelligent boiler load controls
< £10k
8% of gas/5.5% total energy
Endotherm energy saving additive which can be added to any wet based heating system
7% of gas/5% total energy
Set point adjustments/Good estates guide programme
10% gas/ 7% total energy
What other measures can you take to reduce you carbon emissions:
Review age of IT (Information Technology) equipment and whether cloud servers could be used to reduce on site energy consumption.
Generate localised hot water – install point of use hot water boilers.
Useful resources
How much energy could we save the planet?
Share your successes, or ask us for resources
We are keen to hear from schools on the actions they are taking to reduce climate change. Contact us at climateactionschools@hertfordshire.gov.uk to share your success stories. The most inspiring will feature in our planned digital publication "Inspiring Stories to Reduce Climate Change in Schools".
If you require further resources or support get in touch at: climateactionschools@hertfordshire.gov.uk. We of course can't promise to always provide but are keen to support schools wherever possible.
First published 09 June 2021 - Last updated on 03 August 2022